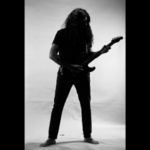 uD
uD is a Pakistani guitarist, song-writer and producer. He learnt music in the rich cultural environment of Pakistan while listening to both 'Sufi' music and Western classic rock.
Usama explains that his music has been influenced by Junoon, a Sufi rock band from his hometown, and is strongly inspired by Led Zeppelin, The White Stripes and Pink Floyd.
With a desire to achieve a melodious balance of East and West, uD continues his musical journey in Australia.